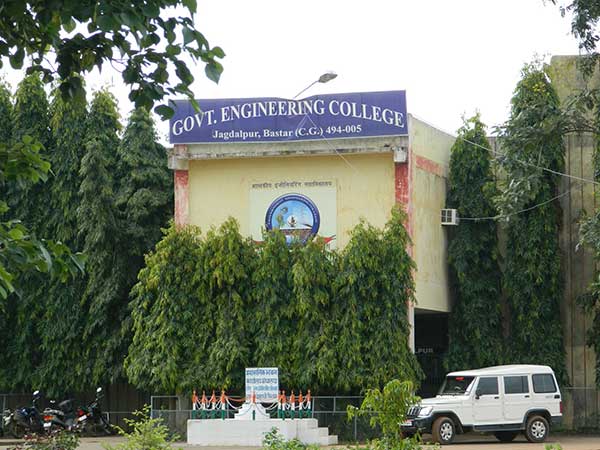 It's a Matter of joy for College that being located in vananchal/tribal area of state Chhattisgarh,Government Engineering College Jagdalpur has successfully completed its 30 years tenure. The college, set up with a goal to make the youth of bastar area proficient in technical field, not only reached a milestone of completing its 30 years in a tribal dominated area of bastar, but also the exposition achieved full success in its goal. Having received education from this college, Thousands of students have received golden opportunities of life and they along with science and technology are giving their involvements in various other fields for the development of our country.
 Establishment year: 01/03/1983
 Govt. Engineering College was established on 01 march 1983. The college started with just a entrance capacity of 20 in civil engineering. After a year in 1984, Mechanical engineering was started with a capacity of 30. In the year 2000, electronics and IT branch were started with an entrance capacity of 30 each.  In 2005-06, electrical engineering was started with an admission capacity of 30 students .Mining engineering was launched in the year 2009-10 with an admission capacity of 60 students along with two master courses ,structural engineering in civil and thermal engineering in mechanical with capacities 18-18 respectively.
 In the year 2010 the intake capacity of civil engineering and electronics and telecommunication engineering were increased to 60, which was 30 in the beginning. Thus the college offers 6 undergraduate and 2 post-graduate courses.
 To provide them with an opportunity to enhance the educational qualifications of the youth working in different fields, 3 part time degree and 2 part time diploma courses are also offered.
 Campus -
The college campus is spread across an area of 69 acres. It is located in between Dharampura, Negigudha, Gatpadmur and Kalipur. The college campus is surrounded by walls and has three entrance, the main entrance opens infront of bastar university, second entrance is arrived on the Chitrakote road and the other opens towards residential complex.

Building:
The college began its operation from 01 March 1983 in a residential complex located in Saket Colony .In 1983-84 session, the college was shifted to Forest department rest house where first batch of 20 students of Civil Engineering began.  In 1984-85, two buildings were built in the current college campus; one was used as Workshop and the other as Boys Hostel which we now know as old civil building. In 1990-91 session, the college building was transferred to Dandakaranya Bhavan in Dharampura-1 where it functioned till 1995.From 1995 to present, the college still operates in its current location.
 The current campus has a workshop where along with Mechanical department, Physics and Chemistry departments are being run.
 The main administrative building contains office, college library, I.T Department and classes of first semester are also run in this building. The current campus contains New Civil building, Electrical building and Electronics & Telecommunication building where respective departments are run.
 It is the matter of happiness for college family that the proposal of three new buildings i.e. Mechanical, Mining and I.T has been approved by the State Government and also the required amount has been made available and construction will start shortly.
 Residential Area:
The college has its own residential complex which has 34 residential quarters that includes Type B -1, C- type 1, type D - 3 , E- type - 4 , F- Type - 14 , G- type - 2 , H Time 4, I type 5 where officers and employees of college resides.
Hostel - The institute campus has 144 bed boys hostel and girls hostel of 100 beds where about 400 students are residing .Depending upon the requirement, a 100 bed boys hostel has been taken on rent where 110 students are residing. State government has approved a boys hostel with a capacity of 144 bed and new funds are made available. The construction of these building will start shortly. Central Government Girls' Hostel for SC and ST students for Rs two crore has been sanctioned. The construction of these hostel will also be completed very soon.
Campus:
Campus are held every year in the college in which many students got selected. Our major recruiters are- Wipro CGI Bangalore, Infotech Bangalore , Avantha Plant Raigarh , Ericsson India Ltd. Delhi , Farmeks Ted Bangalore , Mile Stone India Limited Jagdalpur Branch , British oxygen corporation India Calcutta , Metra Chennai , Ambuja cement Bhatapara .
Students of this institute are employed across the world in good terms. Maximum of the students get placed every year.
Library:
The college library houses around 50000 books. Books of over 7000 titles have been purchased according to various courses offered. Around 100 national and international journals are replenished.
 15-20 magazines and almost all the newspapers are subscribed in the library.
  Equipments devices and softwares:
  All the departments of college are equipped with modern equipments and software . Students are given practical training through various equipments like- IC engine , DSP , CNC  robot , UTM , Total Station , APGA  and CPLD kit , Clitran Brench , micro control modern fully programmable kits etc.
  Students are taught programming and design through various softwares like Adia , CATIA , Auto CADIA , Ansis , Stadpro , Tina , Autodesk Inventor  etc.
 Sports and Personality Development :
To develop the personality of students and to master various kinds of sports, appropriate arrangements are there in college. All kinds Gym equipment, Badminton court, Cricket , Kho Kho , Volleyball , Basketball , Football ground etc. are available. All kind of sports utility are provided to students. Through the NSS unit , students are infused with the spirit of service. Girls NSS wing is being installed.
 Chief Minister Education Loan:
Students are made familiar with State Government's Program Chief Minister Education Loan and the officials of bank and institute motivate students to take advantage of the scheme.
 Special Facilities :
Special facilities suchas scholarships , merit scholarships , minority scholarships , Book Bank facility, Special coaching etc are readily made available to students. The students are provided with Fee waivers which is compensated by the government.
 Internet Facilities:
The college campus is well equipped with high speed internet facilities and Wi-Fi facility is also made available. All computers have net access. In addition, each student is provided with net facilities in the laptop so that they can take advantage of available study materials.
 Working in association with the active participation of all officers and employees, they have immensely to organization development. With the hard work of students, the college results are extremely good. The university exam results are about 90 %. The college is not behind in anything other colleges located in the state and country.
 Recent surveys by GHRDC magazine show that the college has 4th rank in the state and 47th rank in the country which itself reflect the status of the college. Last year, the college had 4th rank in the state and 49th rank in the country.
 For the development of the college as a leading institution, I have served with hard work, honesty and perseverance. For the work done in the field of technical education, institution development and student growth, I have been conferred with 17 national and international awards. The result of my work done in technical field is that, the International College located in Sri Lanka has honored me with Doctt. in Literature. My next attempt would be to make Government Engineering College Jagdalpur, an I.I.T. level college and avail high quality technical education to the students.  The college is continuously working for the fulfillment of students goal and will continue to work.